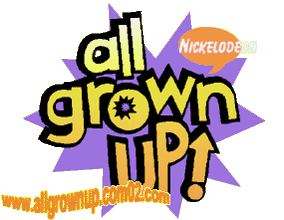 All Grown Up! is an animated television series created by Arlene Klasky and Gábor Csupó for Nickelodeon. After the success of All Growed Up, the Rugrats 10th anniversary special, Nickelodeon commissioned All Grown Up! as a spin-off series based on the episode. The series ran from April 12, 2003 to August 17, 2008, and currently airs in reruns on Nickelodeon and Nicktoons. The show aired in reruns on The N from August 18, 2003 until November 12, 2005, it was dropped from the channel on February 2006, but then returned in April 2007 until June 25, 2009, then on July 7, 2009, All Grown Up! was dropped from The N again. The show's premise is that the characters of the Rugrats are ten years older. Tommy, Dil, Chuckie, Phil, Lil, Kimi, Angelica & Susie now have to deal with teen and pre-teen issues and situations.
It was the first Nicktoon spin-off receiving positive review among critics, and developed a cult following after its run.
Nicktoons: Attack of the Toybots
Edit
Tommy Pickles appears as one of the Master Models that you have to collect. He only appears in the console version of the game, Chuckie Finster is the Master Model in the handheld version of the game.
Ultimate Nickelodeon Brawl Stars X
Edit
Tommy Pickles and Kimi Finster both appear as playable characters in Ultimate Nickelodeon Brawl Stars X. Also Reptar appears in the game but is categorized as Rugrats character. The story of the teens involve Tommy seeking for Kimi who has gone missing.
One of Kimi's special costumes is her dressed as Trixie Tang from The Fairly OddParents. Tommy's special costume is him dressed as his brother Dil Pickles.
Nicktoons: Freeze Frame Frenzy
Edit
Tommy appears as a playable character in Nicktoons: Freeze Frame Frenzy. You visit his world too, but his world is the only one that doesn't have a boss in it. Many characters appear who can be photographed, they are;
Other Games
Edit
Tommy also appeared as a playable character in Nicktoons Basketball.